The Sexual Backlash
The revelation of Harvey Weinstein's sexual escapades brought a cavalcade of victims coming forward. I'm thankful that women and men who have been victimized now have the opportunity for justice, however, there will likely also be those who view this as an opportunity to make false accusations.
Mike Pence took some heat for his practice of avoiding being alone with someone of the opposite sex, but that personal boundary will likely guard him from accusations of sexual impropriety.
Ephesians 5:3 teaches, "But among you there must not be even a hint of sexual immorality, or of any kind of impurity, or of greed, because these are improper for God's holy people."
If you desire to avoid even a hint of a scandal, develop boundaries for yourself, especially in the workplace.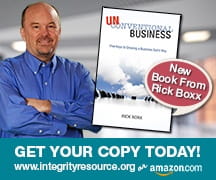 Learn more about Rick Boxx and Integrity Resource Center