Learning Contentment
By: Rick Boxx
February 22, 2013
Some studies indicate that as many as 40% of individuals are dissatisfied with their current work situation or career. While some experts claim the high number is a result of a poor economy or lack of opportunity in the market, others claim unsatisfied employees relates to unrealistic expectations, improper focus, or a lack of gratitude.
In Philippians 4:12, Paul states "I know what it is to be in need, and I know what it is to have plenty. I have learned the secret of being content in any and every situation."
Paul realized that his contentment came as a result of knowing and serving Christ and not as a result of his circumstances.
Ask God to show you the secret of happiness that can not be found in our careers.
Today's Integrity Moment was courtesy of our guest author, Matt Cline.
Timothy Keller's Every Good Endeavor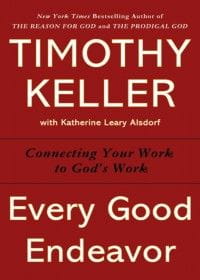 The Christian view of work—that we work to serve others, not ourselves—can provide the foundation of a thriving professional and balanced personal life. Keller shows how excellence, integrity, discipline, creativity, and passion in the workplace can help others and even be considered acts of worship—not just of self-interest. Purchase here.
"How well are you modeling Faith, Integrity, Relationships, and Excellence in your work? Find out by taking Integrity Resource Center's free FIRE Assessment!"
Contact Rick Boxx at www.integritymoments.org, and to learn more about Integrity Resource Center go to integrityresource.org.