A Successful Plan
By: Rick Boxx
February 28, 2013
According to Doug Vermeeren, author of "Amazing Success", only about 20% of the population set goals for themselves, but as many as 70% of those goal setters fail to accomplish their goals. One reason for this high number is the lack of adequate planning and execution.
Failing to outline the details and path required to obtain a goal is a common problem. Once a plan is put in writing it still requires commitment. A committed plan greatly increases the ability to accomplish goals.
Proverbs 16:3 shows us the results of a plan that is committed to serving God. "Commit to the Lord whatever you do, and your plans will succeed."
Whether it's a personal, financial, or career goal, commit it to the Lord, make a written plan, and execute the plan.
Today's Integrity Moment was adapted with permission and courtesy of Matt Cline.
Stanley Tam's God Owns My Business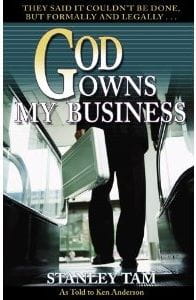 Building a multi-million dollar business with only $37.00 capital is impossible. To even hope of succeeding with a process that four other companies tried and failed is impractical. But this man did it, because he found the right answer to business success. God Owns My Business is the amazing biography of a man who built the first business of it's kind ever to succeed in the United States. Purchase here.
"How well are you modeling Faith, Integrity, Relationships, and Excellence in your work? Find out by taking Integrity Resource Center's free FIRE Assessment!"
Contact Rick Boxx at www.integritymoments.org, and to learn more about Integrity Resource Center go to integrityresource.org.