R.G. LeTourneau's Faith
In 1932, R.G. LeTourneau, the "Dean of Earthmoving Equipment," was deep in debt and behind in paying his employees. Yet, R.G. was confident God wanted him to make a $5,000 pledge to his church.
R.G. reminded God that his employees would think he was a hypocrite if he paid the church before he paid them. Choosing to obey God, R.G. pledged the money in his children's names.
That next week God turned an unhappy customer of R.G.'s into a buyer of three machines! The customer paid $25,000 in advance, solving R.G.'s financial problems.
R.G.'s life verse became Matthew 6:33, "Seek first His kingdom and His righteousness, and all these things will be given to you as well."
In your work, seek God's ways first and let Him handle the rest.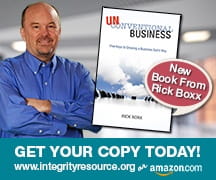 Learn more about Rick Boxx and Integrity Resource Center