Loving Kindness
By:Rick Boxx
February 18, 2016
This week we're discussing three things the Lord requires of leaders according to the prophet Micah: doing justice, loving kindness, and walking humbly. Kindness and Corporate America are rare bedfellows.
According to Businesswire.com, Wescom Credit Union, headquartered in Pasadena, California, proclaimed 2015 as the year of Random Acts of Kindness.
Throughout the year, Wescom had street teams giving free gift cards to the community, food trucks participating with free lunches, date-night surprises at movie theaters, and free yogurt at Yogurtland.
Proverbs 3:3 reminds us, "Do not let kindness and truth leave you; Bind them around your neck, Write them on the tablet of your heart."
Although I'm sure these acts of kindness were good for business, they likely had a profound impact on morale within the organization as well. We all appreciate kindness.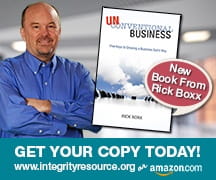 Learn more about Rick Boxx and Integrity Resource Center