A Humbling Experience
By:Rick Boxx
February 5, 2016
The streets had a thin layer of ice covered with snow when I came up behind a driver with Texas license plates. As I switched lanes I told my wife, Kathy, "I better get around this driver. Texas drivers don't usually know how to handle snow well."
The arrogance of that statement had an immediate backlash. As I crossed lanes my car hit an ice patch and suddenly my car was fishtailing all over the road! It took quite an effort to bring it under control. I became the driver people needed to avoid.
James 4:16 teaches, "You boast in your arrogance; all such boasting is evil."
It's easy to think we are more adept than others, especially in the work we do, but our arrogance can lead to some pretty humbling experiences.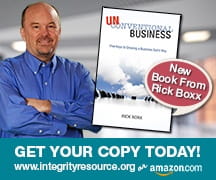 Learn more about Rick Boxx and Integrity Resource Center