Hope and Perseverance
By:Rick Boxx
February 8, 2016
In a recent movie called "Joy", Joy was an intelligent and creative single mother trapped in a very dysfunctional family situation. Joy's grandmother believed that Joy would someday use her creative gifts to become successful in business. But to Joy that seemed very unlikely.
At a turning point, Joy invented a new self-rinsing mop and overcame amazing odds to get her product to market. But her dysfunctional family's efforts nearly ruined her business. Faced with bankruptcy and her family begging her to give up, Joy perseveres one more time and courageously confronts, and overcomes, the hurdle that made her success appear impossible.
Romans 8:25 teaches, "But if we hope for what we do not see, with perseverance we wait eagerly for it."
Business can be hard. Perseverance is critical for long term success.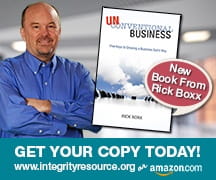 Learn more about Rick Boxx and Integrity Resource Center