Look for the One Thing
Before placing anyone in a leadership position, discover their One Thing. Their One Thing is the foundation everything else is built on. Once I find my One Thing, I know who I am.
My personal One Thing is my connection with Jesus. That's the only scalable, sustainable One Thing I've found that's worth living and dying for.
Paul taught in 2 Timothy 1, "And God chose me to be a preacher, an apostle, and a teacher of this Good News. That is why I am suffering here in prison. But I am not ashamed of it, for I know the one in whom I trust."
Ask a lot of questions and observe them for awhile, but in your future leaders be sure you know the One Thing that drives them.
Today's Integrity Moment was adapted with permission from the writings of Phillip Cohen, 2017 SBA's Missouri Small Business Leader of the Year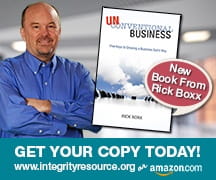 Learn more about Rick Boxx and Integrity Resource Center