Spotless Service Center
By:Rick Boxx
May 2, 2016
Recently, I took my car to a local Toyota dealership for its regular maintenance. This service center amazed me. It was spotless!
As a child, I visited many dealerships where my grandfather worked as a mechanic. None of them came close to measuring up to the look and feel of the near perfection of my Toyota dealer's service center.
Cars are messy and many would not even strive to keep a car repair facility spotless. Coach Vince Lombardi once said, "Perfection is not attainable, but if we chase perfection we can catch excellence."
Jesus taught in Matthew 5:48, "Be perfect, therefore, as your heavenly Father is perfect."
Jesus also knew that we would not achieve perfection in this life. But if we want excellence in our work, set the bar high.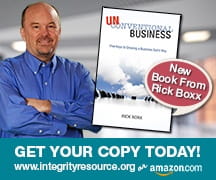 Learn more about Rick Boxx and Integrity Resource Center