A Fatal Deception
By:Rick Boxx
May 27, 2016
Years ago, I introduced Gary and Dean to each other. Gary was a business owner looking for investors, and Dean was a potential investor.
At the introductory meeting, Dean, the investor, said to Gary, "I will research you and your business. If, at any point in time you lie to me, we're done! I will assume that if you lie to me once, more lies are coming."
Ultimately, Gary lied to Dean before any investment was made and Dean, true to his word, bailed out. It saved Dean from significant losses, because Gary later went to prison for fraud.
Proverbs 4:24 teaches, "Put away from you a deceitful mouth and put devious speech far from you."
Don't be a deceiver, or be deceived by those who lie. It won't end well.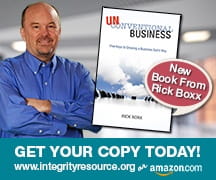 Learn more about Rick Boxx and Integrity Resource Center