The Wrong Identity
Toby's business had outgrown their cash, and they were days away from potential failure. The evening before a meeting with a possible purchaser of his business, Toby shared his fear of failure with his wife.
Toby's wife asked him, "If the business fails do you believe that I'll still love you?" "Yes," Toby replied. "If the business fails will God still love you?" Once again, Toby responded, "Yes."
His wife wisely responded, "Then there's nothing to fear."
Galatians 2:20 teaches, "The life which I now live in the flesh I live by faith in the Son of God, who loved me and gave Himself up for me."
It's easy for our work to consume our identity at times. Remember, God will love you regardless of your business success or failure.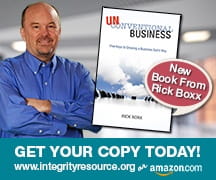 Learn more about Rick Boxx and Integrity Resource Center