Effective leaders
By: Rick Boxx
November 16, 2012
My friend Matt shared a vision and new direction for his company with a friend. His companion reacted by claiming, "That will never work." Matt walked away feeling discouraged and disappointed. After further prayer and reflection Matt pushed ahead anyway.
One of the qualities I admire about good leaders is their willingness to go against the flow. Good leaders are not conformed or influenced by their environment, but initiate change and direction based on wisdom, vision, and passion.
In Romans 12:2, Paul wrote, "Do not conform any longer to the pattern of this world, but be transformed by the renewing of your mind."
Good leadership starts with wisdom, which often leads to innovation and new directions. Meditate on God's Word and allow His wisdom to transform and direct your steps.
Today's "Integrity Moment" was adapted with permission from an article written by Matt Cline.
Mike Frank's Prosperity with Purpose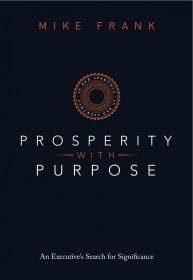 "If you are an executive that thrives on business but are thirsting for more, this book may be your story as well. I can't give you the formula for success, but I can show you how to live a life of relentless purpose…which may or may not include profound wealth". Click here to learn more.
"How well are you modeling Faith, Integrity, Relationships, and Excellence in your work? Find out by taking Integrity Resource Center's free FIRE Assessment!"
Contact Rick Boxx at www.integritymoments.org, and to learn more about Integrity Resource Center go to integrityresource.org.