Driving Lessons – Part I
By: Rick Boxx
November 19, 2012
My daughter, Bekah, received her driver's permit and was excited to begin driving. The first decision I had to make was, "Which car did I want to put at risk while she learned?"
Although I trust my daughter, total trust requires not only a demonstration of strong character, but also competence. In this case, Bekah had zero competencies.
Fortunately, we anticipated such a day and kept an old Malibu that only had a book value of $600, saving nicer cars from harm. The Malibu has already proven to be a wise choice.
1 Corinthians 4:2 teaches, "Now it is required that those who have been given a trust must prove faithful."
If you have someone new starting in your workplace, start them off with small responsibilities, until they've proven faithful.
Mike Frank's Prosperity with Purpose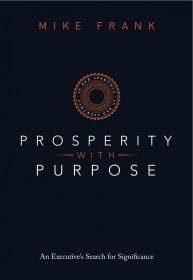 "If you are an executive that thrives on business but are thirsting for more, this book may be your story as well. I can't give you the formula for success, but I can show you how to live a life of relentless purpose…which may or may not include profound wealth". Click here to learn more.
"How well are you modeling Faith, Integrity, Relationships, and Excellence in your work? Find out by taking Integrity Resource Center's free FIRE Assessment!"
Contact Rick Boxx at www.integritymoments.org, and to learn more about Integrity Resource Center go to integrityresource.org.