The 5 P's of Ethical Decision Making – Part IV
By: Rick Boxx
November 8, 2012
Lee Strobel highlighted in a talk at Woodmen Valley Chapel the 5 P's of Ethical Decision Making. The fourth P is People. When you're faced with a tough decision, don't make it in a vacuum.
Involving wise people in your ethical decisions has many benefits including providing good counsel, forcing you to be transparent, and adding some built in accountability.
For years, I led a small group of CEOs. Frequently, regardless of the issue, someone in the room had past experiences that led to a wise decision.
Proverbs 15:22 teaches, "Plans fail for lack of counsel, but with many advisers they succeed."
Being a leader can be lonely at times, but it doesn't have to be. When faced with a challenging ethical decision involve wise people in your decision.
Rick Boxx's Integrity Moments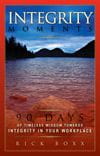 "Integrity Moments" is filled with biblical insights woven into real life stories that challenge you to be a model of integrity to your workplace. Click here to purchase
"How well are you modeling Faith, Integrity, Relationships, and Excellence in your work? Find out by taking Integrity Resource Center's free FIRE Assessment!"
Contact Rick Boxx at www.integritymoments.org, and to learn more about Integrity Resource Center go to integrityresource.org.