Sharing the Spoils
In 1 Samuel 30, David and his men saddled-up to fight the Amalekites who had plundered and kidnapped their families. Two hundred of David's men, however, were exhausted from a previous battle and chose to stay behind to protect the supplies.
After David was victorious, the men were allocating the spoils when they proclaimed that those who stayed behind didn't deserve a portion.  David wisely valued these men's service and proclaimed, "For as his share is who goes down to the battle, so shall his share be who stays by the baggage; they shall share alike."
Many organizations pay their salespeople commissions without paying the support staff anything, devaluing their efforts. If you desire a team to continually work together without jealousy, design a compensation plan that benefits everyone.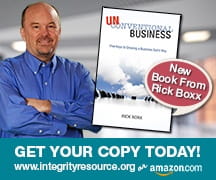 Learn more about Rick Boxx and Integrity Resource Center