A Competitive Advantage
Tom, a friend in the construction business, offered a bid on a big job that he felt was critical to win. He prayed and prayed to be selected for this project, only to learn that one of his competitors had been selected.
At first, Tom was very disappointed and angry with God, until months later when Tom learned that the project turned out to be a financial disaster for his competitor. God had protected Tom from a project that would have likely bankrupted his business!
Psalm 24:1 teaches, "The earth is the Lord's, and all it contains, the world, and those who dwell in it."
God is sovereign and directs business according to what He knows to be best, sometimes in spite of our prayers. Thank you, God!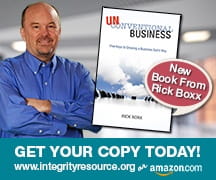 Learn more about Rick Boxx and Integrity Resource Center