G.O. Towards Success
Could it really be this simple? Scientists and researchers say it is. When we study the habits and characteristics of accomplished and successful individuals, we see Gratitude and Optimism at the heart of their behaviors.
Their Grateful attitude toward their circumstances and environment creates Optimism, which researchers are discovering are key components towards job satisfaction, making more money, joy, advancement, and accomplishment.
A heart of gratitude should begin by following what Psalms 105:1 says, "Oh give thanks to the Lord; call upon his name; make known his deeds among the peoples."
Let your light shine this week with a heart of gratitude. God honors and blesses those who see His goodness in all situations and circumstances. Your gratitude and optimism can infect your entire workplace.
Today's Integrity Moment was adapted with permission from the writings of Matt Cline.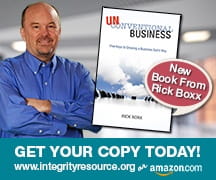 Learn more about Rick Boxx and Integrity Resource Center