Marketing Plan Questions – Question 3
In my book, "Unconventional Business," I highlighted seven questions from marketing guru, Seth Godin, that may help you shape your marketing plan. The third question is, "What do your prospective customers want?"
During my banking career I watched as we constantly launched products to meet our needs with little concern about the customer's desires. Then a new product was announced that the customers were wild about.
When I asked our retail department leader what made the difference, he said, "For the first time ever, we listened to customers and let them shape the product."
Proverbs 1:5 teaches, "Let the wise listen and add to their learning, and let the discerning get guidance."
If you're having trouble selling your product or service, consider gathering and asking your customers what they want.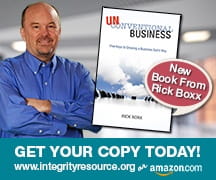 Learn more about Rick Boxx and Integrity Resource Center