Pray God's Word
In Acts 4 the believers may have asked themselves, "Should we be surprised that our own Jewish leaders in God's Holy City are doing things against God."
They were surprised, but as they prayed from Psalms 2:1-6, they saw the situation through God's eyes and realized God understood their predicament from the beginning of the world.
Do you know it's okay to pray Scriptures? It's powerful! As my friend Phil was journeying through the painful wounds from his past, he would sometimes stay awake all night and pray Scriptures. It was a deeply intimate conversation with God that brought him healing and peace.
When you don't know what else to say, pray the Scriptures. It will give you perspective, wisdom, and peace from God's point of view.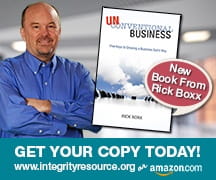 Learn more about Rick Boxx and Integrity Resource Center