Authentic Discussions
Like many people, I lived, worked, and went to church mostly in the suburbs, with people who look like me. Then God decided to shake up my world.
We felt called to begin attending an inner-city church, and adopt a bi-racial daughter.
In addition, I began serving on a ministry board with several African American and Hispanic pastors. I have much to learn, but my new relationships gave me a fresh perspective on many ethnic issues.
Romans 10:12 teaches, "For there is no distinction between Jew and Greek; for the same Lord is Lord of all, abounding in riches for all who call on Him."
If we leave our comfort zone and begin having authentic discussions with those who are different than us, we might begin to see God's view.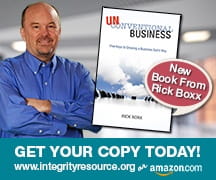 Learn more about Rick Boxx and Integrity Resource Center