Solid Rock
Two friends of mine specialize in building lakes and ponds. They claim, "Anybody can drill down a few feet then call it a lake, but will the lake hold water?"
The solution is drilling deep enough to find solid rock and building the lake around it. The customer, however, will not be able to tell if the lake was built on rock or shifting sand, until it's too late.
Jesus taught in Matthew 7:25 the importance of building on rock, not shifting sand, when He said, "And the rain fell, and the floods came, and the winds blew and slammed against that house; and yet it did not fall, for it had been founded on the rock."
For your customers sake, build your business on solid rock, not shifting sand.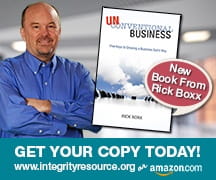 Learn more about Rick Boxx and Integrity Resource Center