The Price of Leadership
Peter and John were willing to be jailed for doing what they believed was right. They didn't know if they would get out of jail, but they followed what they believed was right according to the words of Jesus Christ.
Because of Peter and John's quiet courage, many people followed them. These two apostles never campaigned to become leaders, they simply followed what they believed to be right.
Acts 4:4 says, "But many of the people who heard their message believed it, so the number of men who believed now totaled about 5,000."
If you pay the price to conquer your own problems and follow what's right, regardless of the cost, you will become a burning torch in the night. People who are searching for light will follow you.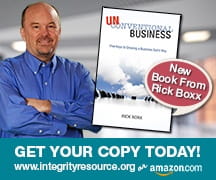 Learn more about Rick Boxx and Integrity Resource Center