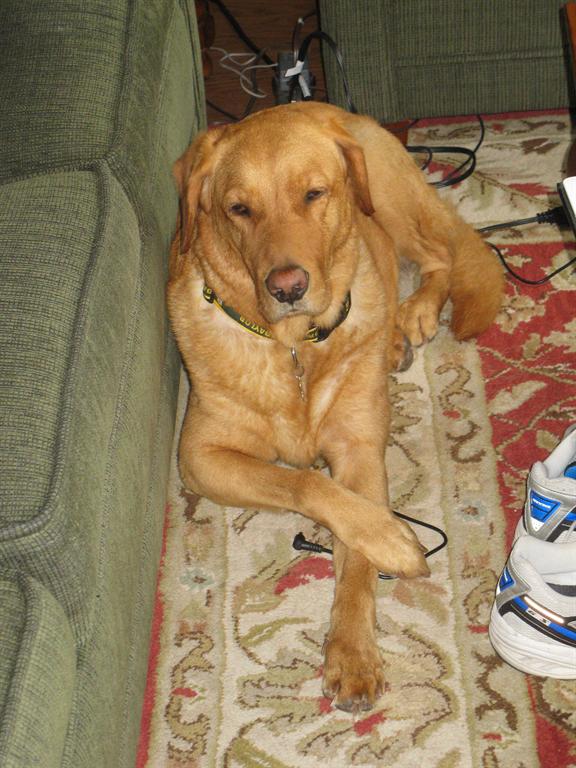 So last night I found myself holding a seventy pound dog as she shook violently. I tried to communicate to her that she was okay. That nothing would harm her. That I was watching out for her. While my presence helped a little she mainly heard the storm and not my comforting words.
A song called "Voice of Truth" from Casting Crowns came to mind. The lyrics describe how Jesus wraps His arms around me and tells me I am okay in the storm. That nothing will come my way that I will not be equipped to handle with Him. That He is watching out for me. But my response is too often reflected in this stanza that describes a believer caught in a storm at sea.

But the waves are calling out my name
And they laugh at me
Reminding me of all the times
I've tried before and failed
The waves they keep on telling me
Time and time again, "Boy, you'll never win!"
"You'll never win!"

The song goes on to describe the quiet voice of comfort that we often miss.

But the Voice of Truth tells me a different story
The Voice of Truth says, "Do not be afraid!"
And the Voice of Truth says, "This is for My glory"
Out of all the voices calling out to me
I will choose to listen and believe the Voice of Truth

Paul talked about our standing with God and that we are now able to hear the "voice of truth".
"For all who are led by the Spirit of God are children of God. So you have not received a spirit that makes you fearful slaves. Instead, you received God's Spirit when he adopted you as his own children. Now we call him, "Abba, Father." For his Spirit joins with our spirit to affirm that we are God's children. And since we are his children, we are his heirs. In fact, together with Christ we are heirs of God's glory. But if we are to share his glory, we must also share his suffering." (Romans 8, NLT)
We too often cut the passage off before the suffering part. But suffering is part of the refining process and during those storms the "voice of truth" is hard to hear. Here is a little tip that I have learned: The voice we hear first in the spiritual battle is the loud one. Listen for the quiet voice. Be still. Pray. Read His Word. The Voice of Truth says, "This is for my glory." That is a plumbline for righteous action.

Is it for His glory? That is what the Voice of Truth tells you. I am praying that I will listen and believe the Voice of Truth.