De oídas te había oído;
Mas ahora mis ojos te ven.(Job 42:5 RV 1960).
Últimamente he estado cantando aquel coro sobre pedirle a Dios abrir los ojos de mi corazón para entonces poder verlo. ¿No es eso lo qué le pasó a Job?
En el versículo de arriba vemos a un Job humillado y castigado quién, después de perder todo y lamentar su destino porque él creyó que no había hecho nada para merecer tal miseria, ha venido ahora cara a cara con el Dios viviente. Por lo consiguiente, su perspectiva entera ha cambiado.
Así como Job, casi cada uno de nosotros por lo menos ha oído de Dios. Sin embargo, a diferencia de Job quién se agarró de su creencia en Dios sin tener en cuenta sus circunstancias, la mayoría de la gente que oye de Dios decide no creer o confiar en Él. ¡Qué diferente la reacción de ellos podría ser si los ojos de su corazón fueran abiertos y ellos realmente podrían verlo!
He oído que la gente dice, "Cuando me vaya al cielo voy a preguntarle a Dios por qué Él permitió que esto pasara." ¿De veras? No lo creo. En primer lugar, cuando lleguemos al cielo no será debido a nada bueno que hemos hecho, pero mejor dicho porque Jesús pagó el precio de nuestra admisión y humildemente aceptamos Su regalo. ¡Segundo, cuándo finalmente ponemos nuestros ojos en el Dios del universo, Aquél quién creó todo por medio de Su palabra, creo que nos sentiremos tan atemorizados como para decir algo, excepto tal vez, "Santo, santo, santo!" Y por supuesto, ese es el punto. Todo lo demás será barrido cuando contemplemos Su gloria; nada más importará cuando nos deleitemos en Su amor inmerecido, incondicional.
¿Quisiera ser como Job, y usted? No quiero oír sólo sobre Dios; quiero VERLO con los ojos de mi corazón. Y quiero que otros hagan lo mismo. ¡Abre los ojos de nuestro corazón, Señor, para que muchos puedan verte!
"I have heard of You by the hearing of the ear,
But now my eye sees You" (Job 42:5, NKJV).
Lately I've been singing that chorus about asking God to open the eyes of my heart so I can see Him. Isn't that what happened to Job?
In the above verse we see a humbled and chastised Job who, after losing everything and bemoaning his fate because he believed he had done nothing to deserve such misery, has now come face to face with the living God. As a result, his entire perspective has changed.
Like Job, nearly everyone has at least heard of God. However, unlike Job who clung to his belief in God regardless of his circumstances, the majority of people who hear of God choose not to believe in or trust Him. How different their reaction might be if the eyes of their heart were opened and they could actually see Him!
I've heard people say, "When I get to heaven I'm going to ask God why He allowed this or that to happen." Really? I don't think so. First of all, when we arrive in heaven it won't be because of anything good we've done, but rather because Jesus paid the price of our admission and we humbly accepted His gift. Second, when we finally lay eyes on the God of the universe, the One who spoke it all into creation, I believe we will be too awestruck to say anything, except maybe, "Holy, holy, holy!" And that, of course, is the point. All else will be swept away when we behold His glory; nothing else will matter as we bask in His unearned, unconditional love.
I want to be like Job, don't you? I don't want to just hear about God; I want to SEE Him with the eyes of my heart. And I want others to do the same. Open the eyes of our heart, Lord, that many might see You!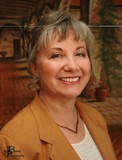 Kathi Macias, popular speaker and prolific author, is an Angel-award winning writer who has published nearly thirty books, including her latest releases, Mothers of the Bible Speak to Mothers of Today (New Hope Publishers) and My Son John (a novel from Sheaf House). Whether keyboarding her latest book, keynoting a conference, or riding on the back of her husband's Harley, Kathi "Easy Writer" Macias is a lady on a mission to communicate God's vision. Her insightful words—filled with passion, humor and soul nourishment—refresh audiences from all walks of life. Join Kathi as she hosts "Write the Vision" every Thursday from 6—7 p.m. (Pacific Time) via THE International Christian Network (www.theicn.com). To learn more about Kathi or to book her for your next event, visit www.KathiMacias.com. Spanish translations by Cynthia Alcantara (cynthia.alcantara1@gmail.com).