"Jehová recompense tu obra, y tu remuneración sea cumplida de parte de Jehová Dios de Israel, bajo cuyas alas has venido a refugiarte" (Rut 2:12 RV 1960).
El cuatro de julio siempre ha sido uno de mis días de fiesta favoritos. ¡Cuándo yo era una niña esto era un día de anticipación, sabiendo que mi Mamá y mi Papá nos llevarían fuera de la ciudad para estacionarnos en un buen lugar con una vista perfecta (¡GRATIS!) de los fuegos artificiales de la noche. Otras familias se estacionaban a cada lado de nosotros y los niños, nos divertíamos muchísimo,
Cuando maduré pude apreciar las libertades un poco más representadas en esta gran fiesta, así como el precio pagado por muchos para asegurar esas libertades. Soy entre las primeras para ponerme de pie al sonido de nuestro Himno Nacional, orgullosamente colocando mi mano sobre mi corazón y dando las gracias que yo he sido tan privilegiada por haber nacido y crecido en "la tierra de los libres y en la casa de los valientes."
¿Pero a quién agradezco en ese momento? ¿A aquellos que dieron sus vidas, sus fortunas, literalmente todo que ellos tuvieron para establecer este país al principio? ¿Los hombres y mujeres valientes que han luchado (muchos sacrificando sus vidas en el proceso) desde el inicio del país para proteger nuestro estilo de vida? ¡Sí a todos, y de buenas ganas! Pero por último es a Aquel quién nos esconde bajo la sombra de Sus alas, el gran soberano Dios de Israel, que misericordiosamente extiende Su favor y bendición sobre nosotros y nos permite vivir como un país libre.
Rut, una Moabita y extranjera en la tierra de Israel, cambió la lealtad de sus raíces paganas para seguir a un Dios verdadero. Ella se rindió a Su autoridad y confió en Su cuidado. El Señor Dios de Israel, que es fiel a Su Palabra y a Sus promesas, la bendijo a consecuencia.
Cuando celebramos cualquiera de las libertades que tenemos hoy, disfrutamos y no podemos olvidar que tenemos esas libertades sólo porque hemos estado bajo el refugio de Sus alas— y que cuando rechazamos ese refugio y comenzamos a creer podemos asegurar esas libertades como propias.
¡Qué Dios siga bendiciéndonos, dondequiera que vivamos, cuando sigamos tomando refugio en Él!
***
"The Lordrepay your work, and a full reward be given you by the LordGod of Israel, under whose wings you have come for refuge" (Ruth 2:12, NKJV).
The Fourth of July has always been one of my favorite holidays. When I was a child it was a day of anticipation, knowing Mom and Dad would take us outside the city to park in a spot with just the perfect (FREE!) view of the evening's fireworks. Other families parked on each side of us, and we kids had a ball.
As I got older I came to appreciate the freedoms represented by this great holiday, as well as the price paid by so many to secure those freedoms. I'm among the first to stand at the sound of our National Anthem, proudly placing my hand over my heart and giving thanks that I have been so privileged to be born and raised in the "land of the free and the home of the brave."
But who do I thank at that moment? Those who pledged their lives, their fortunes, literally everything they had to establish this country in the beginning? The brave men and women who have fought (many laying down their lives in the process) since the country's inception to protect our way of life? Yes to all, and gladly so! But ultimately it is the One who hides us under the shadow of His wings, the great and sovereign God of Israel, who mercifully extends His favor and blessing upon us and enables us to live as a free people.
Ruth, a Moabitess and a foreigner in the land of Israel, switched her allegiance from her pagan roots to follow the one true God. She submitted to His authority and trusted in His care. The Lord God of Israel, who is faithful to His Word and His promises, blessed her accordingly.
As we celebrate whatever freedoms we enjoy today, may we not forget that we experience those freedoms only because we have come under His wings for refuge—and that when we reject that refuge and start believing we can secure those freedoms on our own, we will quickly learn otherwise.
May God continue to bless us, wherever we live, as we continue to take refuge in Him!
***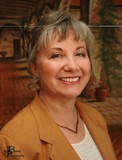 Kathi Macias, popular speaker and prolific author, is an Angel-award winning writer who has published nearly thirty books, including her latest releases, Mothers of the Bible Speak to Mothers of Today (New Hope Publishers) and My Son John (a novel from Sheaf House). Whether keyboarding her latest book, keynoting a conference, or riding on the back of her husband's Harley, Kathi "Easy Writer" Macias is a lady on a mission to communicate God's vision. Her insightful words—filled with passion, humor and soul nourishment—refresh audiences from all walks of life. Join Kathi as she hosts "Write the Vision" every Thursday from 6—7 p.m. (Pacific Time) via THE International Christian Network (www.theicn.com). To learn more about Kathi or to book her for your next event, visit www.KathiMacias.com. Spanish translations by Cynthia Alcantara (cynthia.alcantara1@gmail.com).