"Pueblos todos, batid las manos;
aclamad a Dios con voz de júbilo" (Salmos 47:1 RV 1960).
¡Nuestro bisnieto Cameron vino a visitarnos justo antes de la Navidad (con su mamá, no solo!). Tenía aproximadamente 17 meses entonces, un niño adorable, encantador y con un retraso mental. En su mayor parte, él es tranquilo y de buenos modales. Pero cuando la oscuridad se avecinó, decidimos encender las luces exteriores de Navidad y sacarlo para verlas.

Su bisabuelo Al lo sostuvo mientras la mamá de Cameron y yo mirábamos las luces. Al minuto en que Cameron vio aquellas luces, sus ojos se engrandecieron, su rostro brilló, y él comenzó a aplaudir con sus manos juntas y gritaba de alegría. Yo lo miraba con lágrimas en mis ojos, pensando en las palabras del Salmo 47:1 y deseando no tener ninguna inhibición como para aplaudir con mis manos y gritar de alegría sobre algo tan sencillo como las luces de Navidad.

Como con todos nuestros hijos, nietos, y bisnietos, he aprendido mucho durante los años sólo mirándolos. El Cameron no es ninguna excepción. Él es, de hecho, el cuadro perfecto de lo que Jesús quiso decir cuando dijo, "Dejad a los niños venir a mí, y no se lo impidáis; porque de los tales es el reino de los cielos" (San Mateo 19:14, NKJV). La pureza de la alegría de un niño fluye de la simplicidad de su fe.

Esta es la clase de fe y alegría que yo deseo: pura y simple, fluyendo sin reservas de un corazón que confía en Él quién nos sostiene cerca de Su propio corazón. Podemos todos nosotros aprender de la fe y la alegría de los niños — y comenzar a exponer esa fe y alegría de modo que los otros puedan ver y responder. ¡Aplaudan con sus manos, todo ustedes, y grítenle a Dios con la voz del triunfo!
***
Oh, clap your hands, all you peoples!
Shout to God with the voice of triumph! (Psalm 47:1, NKJV)

Our great-grandson Cameron came to visit us just before Christmas (with his mom, not alone!). He was about 17 months old then, an adorable, delightful child with Downs Syndrome. For the most part, he is quiet and well-behaved. But as darkness fell, we decided to turn on the outside Christmas lights and take him out to see them.

Great-Grandpa Al held him as Cameron's mom and I looked on. The minute Cameron saw those lights, his eyes widened, his face glowed, and he began to clap his hands together and shout for joy. I watched him with tears in my eyes, thinking of the words in Psalm 47:1 and wishing I could be so uninhibited as to clap my hands and shout for joy over something so simple as Christmas lights.

As with all our children, grandchildren, and great-grandchildren, I have learned a lot over the years just by watching them. Cameron is no exception. He is, in fact, the perfect picture of what Jesus meant when He said, "Let the little children come to Me, and do not forbid them; for of such is the kingdom of heaven" (Matthew 19:14, NKJV). The purity of a child's joy flows from the simplicity of faith.

That's the kind of faith and joy I want: pure and simple, flowing without reservation from a heart that trusts the One who holds us close to His own heart. May we all learn from the faith and joy of children—and begin to exhibit that faith and joy so that others may see and respond. Clap your hands, all you people, and shout to God with the voice of triumph!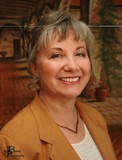 Kathi Macias, popular speaker and prolific author, is an Angel-award winning writer who has published nearly thirty books, including her latest releases, Mothers of the Bible Speak to Mothers of Today (New Hope Publishers) and My Son John (a novel from Sheaf House). Whether keyboarding her latest book, keynoting a conference, or riding on the back of her husband's Harley, Kathi "Easy Writer" Macias is a lady on a mission to communicate God's vision. Her insightful words—filled with passion, humor and soul nourishment—refresh audiences from all walks of life. Join Kathi as she hosts "Write the Vision" every Thursday from 6—7 p.m. (Pacific Time) via THE International Christian Network (www.theicn.com). To learn more about Kathi or to book her for your next event, visit www.KathiMacias.com. Spanish translations by Cynthia Alcantara (cynthia.alcantara1@gmail.com).