"A ti, Jehová, levantaré mi alma" (Salmo 25:1 RV).
Cuantas veces decimos o cantamos las palabras dichas arriba: ¿"A Ti, JEHOVÁ, levantaré mi alma"? Palabras simples, y fácil de decir, pero no tan fácil de hacer algunas veces - al menos no para mí. ¿Y aún así, si lo hiciera, seguramente me encontraría rascándome la cabeza y diciendo, "¿Cómo pude llegar hasta aquí?"
La clave está en el entendimiento de la palabra "alma", que por su parte nos ayuda a entender como "levantamos" nuestra alma al Señor. Si recordamos que nuestra alma está compuesta de nuestra mente (pensamientos), emociones, y voluntad, el cuadro se pone claro. Levantar nuestra alma al Señor significa que le presentamos nuestros pensamientos y emociones, y elegimos (presentarle nuestra voluntad) para vivir según Su Palabra más bien que por nuestras emociones o pensamientos. Simple… pero no siempre fácil.
Aquí está otro pensamiento que podría ayudar. El diablo a menudo es referido como "el enemigo de nuestra alma." Aunque él no pueda minar o derrotar el espíritu de un hijo renacido de Dios, ciertamente puede tratar de usar nuestra mente, voluntad, y las emociones para engañarnos y dañarnos. Pero si nos acordamos de presentar "o levantar" nuestra alma a Dios, buscando Su dirección y protección, el diablo fallará en sus tentativas para descarrilarnos.
El diablo es más inteligente que nosotros, pero 1 Juan 4:4 dice, "Hijitos, vosotros sois de Dios y lo habéis vencido, porque mayor es el que está en vosotros que el que está en el mundo." Esto me da gran comodidad y el aseguramiento — y el incentivo perfecto y el recordatorio para levantar continuamente mi alma al Señor.
***
To You, O LORD, I lift up my soul (Psalm 25:1).
How many times do we say or sing the words listed above: "To You, O LORD, I lift up my soul"? Simple words, and easy to say, but not so easy to do at times—at least not for me. And yet, if I did, I would surely find myself less often scratching my head and saying, "How did I get here?"
The key is in understanding the word "soul," which in turn helps us understand how we "lift" our soul to the Lord. If we remember that our soul is made up of our mind (thoughts), emotions, and will, the picture becomes clear. To lift up our soul to the Lord means that we submit our thoughts and emotions to Him, and choose (submit our will) to live according to His Word rather than by our emotions or thoughts. Simple…but not always easy.
Here's another thought that might help. The devil is often referred to as the "enemy of our soul." Though he can't undermine or defeat the spirit of a born-again child of God, he certainly can try to use our mind, will, and emotions to deceive and harm us. But if we remember to submit or "lift" our soul to God, seeking His direction and protection, the devil will fail in his attempts to derail us.
The devil is smarter than we are, but 1 John 4:4 says, "He who is in you [believers] is greater than he who is in the world." God in us is greater than the devil in the world. That gives me great comfort and assurance—and the perfect incentive and reminder to continually lift my soul to the Lord.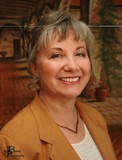 Kathi Macias, popular speaker and prolific author, is an Angel-award winning writer who has published nearly thirty books, including her latest releases, Mothers of the Bible Speak to Mothers of Today (New Hope Publishers) and My Son John (a novel from Sheaf House). Whether keyboarding her latest book, keynoting a conference, or riding on the back of her husband's Harley, Kathi "Easy Writer" Macias is a lady on a mission to communicate God's vision. Her insightful words—filled with passion, humor and soul nourishment—refresh audiences from all walks of life. Join Kathi as she hosts "Write the Vision" every Thursday from 6—7 p.m. (Pacific Time) via THE International Christian Network (www.theicn.com). To learn more about Kathi or to book her for your next event, visit www.KathiMacias.com. Spanish translations by Cynthia Alcantara (cynthia.alcantara1@gmail.com).