Jehová es la porción de mi herencia y de mi copa; tú aseguras mi suerte. las cuerdas me cayeron en lugares deleitosos y es hermosa la heredad que me ha tocado (Salmo 16:5-6 RV).
Mi mamá falleció hace un par de meses, y escuché muchos tributos brillantes en su servicio conmemorativo. Parece que mi Mamá tocó muchas vidas y dejó una herencia verdadera, aunque esa herencia no incluye nada material porque, cuando mi Mamá murió a los 90 años, ella ya no tenía nada material o monetario para dejarnos. Su herencia era estrictamente la de memorias tiernas, relaciones benditas, y estímulo espiritual.
Y ese es el punto. ¡Como creyentes, tenemos la mayor herencia imaginable - el mismo Dios! El salmista dice que el Señor es su herencia, y Él es el nuestro también. El salmista también declara que su herencia es buena. Aunque unos puedan heredar casas grandes o yates o enormes cuentas bancarias cuando sus seres queridos mueren, los creyentes heredan al Dios del Universo, al Salvador de la humanidad, una vida interminable de gozo y paz y luz.
Esta es una herencia que no sólo debería causarnos alegría, pero debería motivarnos a hacer todo lo posible por impartir esa misma herencia a los demás. Como Cristianos que desean glorificar a Dios, este debería ser nuestro enfoque principal, nuestro objetivo primario, todos y cada día, y en cada momento que caminamos sobre esta tierra. Conocemos el viejo refrán que dice, que no podemos "llevarnos [las cosas materiales] con nosotros al cielo" y es verdadero, pero es también verdadero que los únicos tesoros que podemos llevarnos con nosotros al cielo y poner a los pies de Jesús son las vidas en las que influimos para el Reino de Dios.
Las líneas realmente han caído sobre nosotros en sitios agradables, queridos compañeros creyentes, ya que también tenemos una buena herencia – demasiada buena para quedarnos con ella. ¡Resolvamos, mientras todavía tenemos el aliento dentro de nosotros, pasarla a muchos otros mientras podemos!
***
O LORD, You are the portion of my inheritance and my cup; You maintain my lot. The lines have fallen to me in pleasant places; Yes, I have a good inheritance (Psalm 16:5-6).
My mom passed away a couple of months ago, and I heard many glowing tributes to her at her memorial service. It seemed Mom touched many lives and left quite a legacy behind, though that legacy included nothing material because, when Mom died at 90, she no longer had anything material or monetary left to pass on to others. Her legacy was strictly that of fond memories, blessed relationships, and spiritual encouragement.
And that's the point. As believers, we have the greatest heritage imaginable—God Himself! The psalmist says that the Lord is his inheritance, and He is ours as well. The psalmist also declares that his inheritance is a good one. Though some may inherit mansions or yachts or huge bank accounts when loved ones die, believers inherit the God of the Universe, the Savior of mankind, an unending life of joy and peace and light.
This is an inheritance that should not only cause us to rejoice but to do everything possible to impart that same inheritance to others. As Christians who desire to glorify God, this should be our main focus, our primary goal, each and every day, every moment that we walk this earth. We know the old saying that we can't "take it [material things] with us" is true, but it is also true that the only treasures we can take with us to heaven and lay at the feet of Jesus are the lives we influence for God's Kingdom.
The lines truly have fallen to us in pleasant places, dear fellow believers, for we have a good heritage—too good to keep to ourselves. Let's resolve, while we still have breath within us, to pass it on to as many others as we can!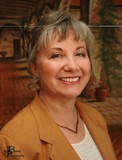 Kathi Macias, popular speaker and prolific author, is an Angel-award winning writer who has published nearly thirty books, including her latest releases, Mothers of the Bible Speak to Mothers of Today (New Hope Publishers) and My Son John (a novel from Sheaf House). Whether keyboarding her latest book, keynoting a conference, or riding on the back of her husband's Harley, Kathi "Easy Writer" Macias is a lady on a mission to communicate God's vision. Her insightful words—filled with passion, humor and soul nourishment—refresh audiences from all walks of life. Join Kathi as she hosts "Write the Vision" every Thursday from 6—7 p.m. (Pacific Time) via THE International Christian Network (www.theicn.com). To learn more about Kathi or to book her for your next event, visit www.KathiMacias.com. Spanish translations by Cynthia Alcantara (cynthia.alcantara1@gmail.com).