"Y ciertamente, aun estimo todas las cosas como pérdida por la excelencia del conocimiento de Cristo Jesús, mi Señor" (Filipenses 3:8 RV).
No hay nada mejor que un encuentro serendipia con el Señor que usted realiza después era un momento de línea divisoria en su vida. Además donde obviamente encontramos a Cristo por primera vez en arrepentimiento y conversión, tenemos a otros a lo largo del viaje. Yo tuve algo así recientemente que ha traído tanto entusiasmo como paz, aunque no tenga ni idea aún donde esto me conducirá.
Estaba acostada en mi cama, ya cuando me quedaba casi dormida, cuando realicé que Dios me hablaba. "Déjalo," dijo Él. "Todo."
¿Todo? ¿Todo de qué?
Todo. Esto es lo que Él dijo; esto es lo que Él quiso decir.
Aferrándome a cualquier cosa en esta vida, trabajo, ministerio, sueños, posesiones, cualquier cosa — nos impedirá aferrarnos a Él únicamente. Usted sabe esto; yo sé esto. Lo sabía cuando Él me habló, y aún lo resistí tratando de calificar Su orden.
¿Ha tratado usted alguna vez de luchar de cuerpo a cuerpo con Dios? ¿Realmente? ¿Cuál fue el resultado para usted? Yo lo he intentado varias veces y no he ganado aún. De todos modos, busqué un modo de encontrar significado en todo…bueno, cualquier cosa menos todo. ¿Pero es exactamente lo qué esto significa, verdad? Así es que por fin, me puse de acuerdo. Cualquier cosa a la que yo podría aferrarme en vez de a Jesús ha sido puesta a Sus pies otra vez. (¿Alguien además de mí tiene que hacer esto periódicamente?) Como resultado, siento mucha paz y me siento muy contenta por lo que esto pueda traer. Sobre todo, me alegro que esto trae una conciencia más profundizada y la apreciación de Su presencia.
Entrégalo todo. De todos modos Él es el único que importa. En la luz de la eternidad, todo lo demás es sólo una pelusa.
***
I also count all things loss for the excellence of the knowledge of Christ Jesus my Lord (Philippians 3:8, NKJV).
There's nothing better than a serendipitous encounter with the Lord that you realize afterward was a watershed moment in your life. In addition to the obvious one where we meet Christ for the first time in repentance and conversion, we have others along the journey. I had one recently that has brought both excitement and peace, though I have no idea yet where it will lead me.
I was lying in bed, just about to drift off, when I realized God was speaking to me. "Lay it down," He said. "All of it."
All of it? All of what?
All of it. That's what He said; that's what He meant.
Hanging on to anything in this life—relationships, job, ministry, dreams, possessions, anything—will keep us from clinging solely to Him. You know that; I know that. I knew that when He spoke to me, and yet I resisted by trying to qualify His command.
Have you ever tried to arm wrestle God? Really? How did that work out for you? I've tried it several times and haven't won yet. Still, I looked for a way to make all mean…well, anything but all. But that's exactly what it means, isn't it? And so, at last, I agreed. Anything, everything that I might be clinging to instead of Jesus has been laid at His feet—again. (Anyone besides me have to do this periodically?) As a result, I have great peace and a sense of excitement for what may come of it. Most of all, I'm pleased that it brings a deepened awareness and appreciation of His presence.
Lay it down; all of it. He's the only thing that matters anyway. In light of eternity, everything else is just fluff.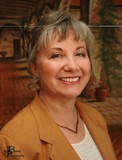 Kathi Macias, popular speaker and prolific author, is an Angel-award winning writer who has published nearly thirty books, including her latest releases, Mothers of the Bible Speak to Mothers of Today (New Hope Publishers) and My Son John (a novel from Sheaf House). Whether keyboarding her latest book, keynoting a conference, or riding on the back of her husband's Harley, Kathi "Easy Writer" Macias is a lady on a mission to communicate God's vision. Her insightful words—filled with passion, humor and soul nourishment—refresh audiences from all walks of life. Join Kathi as she hosts "Write the Vision" every Thursday from 6—7 p.m. (Pacific Time) via THE International Christian Network (www.theicn.com). To learn more about Kathi or to book her for your next event, visit www.KathiMacias.com. Spanish translations by Cynthia Alcantara (cynthia.alcantara1@gmail.com).