Cuando se puso el sol y todo estaba oscuro, apareció un horno humeante y una antorcha de fuego que pasaba por entre los animales divididos. (Génesis 15:17 RV 1995).
Dios es conocido por muchos nombres en las Escrituras, pero cuando leía Génesis 15:17 esta mañana, no pude menos que pensar expresamente en dos de ellas: el Fuego de Toda-Consumación y la Luz del Mundo. ¿No trae a la mente las referencias "un horno humeante" y "una antorcha de fuego"?
Cuando pienso en Dios como el Fuego de Toda-Consumación, no puedo menos que pensar en el juicio — y con razón. Dios es ciertamente un Juez justo, y haríamos bien en guardar esto en la mente. Al mismo tiempo, Jesús se llamó a Sí mismo "la Luz del mundo," y ¿no nos alegra eso? Él salió a la luz en la misma forma que nos libra del justo juicio de Dios — es el único camino, de acuerdo con el mismo Cristo.
Cuando me puse a pensar en esos nombres y sus implicaciones, no podía menos que imaginar el Fuego de Toda-Consumación (Dios el Padre) y la Luz del Mundo (Dios el Hijo) pasando por los pedazos sangrientos del sacrificio matado, haciendo un convenio el uno con el otro. A menudo nos referimos a Génesis 15 como el capítulo donde Dios hizo el convenio con Abraham (entonces todavía se llamaba Abram), pero Abraham no participó activamente en aquel proceso que hizo el convenio, ¿verdad? Él simplemente aceptó los términos del convenio y cosechó los beneficios.
¿Es eso algo diferente con nosotros y el nuevo convenio establecido por el sacrificio sangriento de Cristo, la Luz del mundo, el Cordero de Dios? Dios el Padre y Dios el Hijo cortaron y sellaron el convenio; así como Abraham, nosotros simplemente aceptamos la obra terminada y cosechamos los beneficios. No hay nada que podemos hacer para lograr que el convenio sea mayor o menor, no podemos hacer nada para cambiar los términos o el resultado.
Lo que podemos hacer es cultivar una apreciación fresca para el Fuego de Toda-Consumación y la Luz del Mundo quiénes establecieron este convenio para nosotros, y luego enviaron a Dios el Espíritu Santo para permitirnos andar en ello. ¡Qué Dios tan fuerte y misericordioso servimos!
***
And it came to pass, when the sun went down and it was dark, that behold, there appeared a smoking oven and a burning torch that passed between those pieces (Genesis 15:17, NKJV).
God is known by a lot of names in the Scriptures, but as I read Genesis 15:17 this morning, I couldn't help but think specifically of two of them: the All-Consuming Fire and the Light of the World. Doesn't the reference to "a smoking oven" and "a burning torch" in this verse bring those titles to mind?
When I think of God as the All-Consuming Fire, I can't help but think of judgment—and rightfully so. God is certainly the righteous Judge, and we would do well to keep that in mind. At the same time, Jesus called Himself the "Light of the world," and aren't we glad? He came to light the way that delivers us from God's righteous judgment—the only way, according to Christ Himself.
As I pondered those names and their implications, I couldn't help but picture the All-Consuming Fire (God the Father) and the Light of the World (God the Son) passing through the bloody pieces of the slain sacrifice, making covenant with one another. We often refer to Genesis 15 as the chapter where God made covenant with Abraham (at that time still called Abram), but Abraham didn't actively participate in that covenant-making process, did he? He simply accepted the terms of the covenant and reaped the benefits.
Is it any different with us and the new covenant established by the bloody sacrifice of Christ, the Light of the world, the Lamb of God? God the Father and God the Son cut and sealed the covenant; like Abraham, we simply accept the finished work and reap the benefits. There's nothing we can do to make the covenant greater or lesser, nothing we can do to change the terms or the outcome.
What we can do is cultivate a fresh appreciation for the All-Consuming Fire and the Light of the World who established this covenant for us, and then sent God the Holy Spirit to enable us to walk in it. What a mighty and merciful God we serve!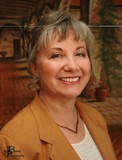 Kathi Macias, popular speaker and prolific author, is an Angel-award winning writer who has published nearly thirty books, including her latest releases, Mothers of the Bible Speak to Mothers of Today (New Hope Publishers) and My Son John (a novel from Sheaf House). Whether keyboarding her latest book, keynoting a conference, or riding on the back of her husband's Harley, Kathi "Easy Writer" Macias is a lady on a mission to communicate God's vision. Her insightful words—filled with passion, humor and soul nourishment—refresh audiences from all walks of life. Join Kathi as she hosts "Write the Vision" every Thursday from 6—7 p.m. (Pacific Time) via THE International Christian Network (www.theicn.com). To learn more about Kathi or to book her for your next event, visit www.KathiMacias.com. Spanish translations by Cynthia Alcantara (cynthia.alcantara1@gmail.com).