Unto us a child is born, to us a son is given and the government will be upon His shoulders and He will be called Wonderful Counselor, Mighty God, Everlasting Father, Prince of Peace. (Isaiah 9:6)
There are two more names of Jesus that can be paired together: Everlasting Father and Prince of Peace. That is, He has paternal compassion coupled with His priestly, princely purpose. On one hand, He does not simply have compassion; but on the other hand, He does not just have purpose. He has paternal compassion and a princely purpose because He is the Everlasting Father. This means that for every dimension your life goes through, the Everlasting Father can fit into your dimension.
---
In every day, in every way… be encouraged!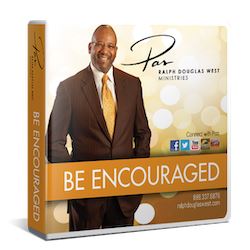 Sometimes life is a struggle. But when you know that the God of the universe has got your back, you can get through anything.
That's why we want to send you Pas' new 4-part series Be Encouraged when you give below to help share that peace and strength with others.
Get your copy today and walk through the story of Jesus' incredible love for you as told in Pas' signature style. We pray it encourages your heart and enriches your spirit!
And thank you for giving generously to encourage others in God's love.