You have enlarged the nations and increased their joy; they rejoice before you as people rejoice at the harvest, as men rejoice when dividing the plunder. (Isaiah 9:3)
What Isaiah sees aren't these insignificant tribes crumbling under military pressure. He doesn't see them oppressed; neither does he see them oppressing. Instead, he sees them liberated and liberating in a joyful kind of way. The people had already seen how the military forces came in and destroyed the nations. But now, Isaiah gives them the picture of the day that will come when the Perfect Prince Himself will bring exceptional peace.
---
In every day, in every way… be encouraged!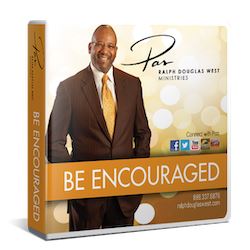 Sometimes life is a struggle. But when you know that the God of the universe has got your back, you can get through anything.
That's why we want to send you Pas' new 4-part series Be Encouraged when you give below to help share that peace and strength with others.
Get your copy today and walk through the story of Jesus' incredible love for you as told in Pas' signature style. We pray it encourages your heart and enriches your spirit!
And thank you for giving generously to encourage others in God's love.