The Spirit of the Lord GOD is upon Me . . . to preach good tidings to the poor. (Isaiah 61:1)
If you ever go to the Rockies and fix your gaze on those mountains, it looks like one mountain peak after another. You won't notice it by flying overhead, but standing at the base, you can see the spaces between the mountains. Isaiah was not looking in the valley; instead, he was looking at the mountain. We also need to fix our gaze on the mountain, where we'll see the Wonderful Counselor, Mighty God, Everlasting Father, and the Perfect Prince of Peace.
---
In every day, in every way… be encouraged!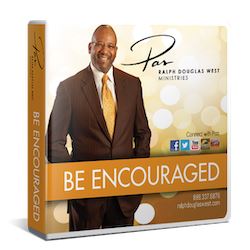 Sometimes life is a struggle. But when you know that the God of the universe has got your back, you can get through anything.
That's why we want to send you Pas' new 4-part series Be Encouraged when you give below to help share that peace and strength with others.
Get your copy today and walk through the story of Jesus' incredible love for you as told in Pas' signature style. We pray it encourages your heart and enriches your spirit!
And thank you for giving generously to encourage others in God's love.