. . . having been built on the foundation of the apostles and the prophets . . . (Ephesians 2:20)
In the folklore writings of Mark Cantly, one day the angel Gabriel is in his Manhattan apartment, observing the human traffic passing by on the streets below. While doing so, he reports, "Today Lawd, eva thang a nailed down is a comin' loose." These days we ask, "Is there anything viable, durable, and unchangeable that we can latch on to when everything is coming loose and falling apart? The answer to that is "yes." We can stand upon the certainty of hope that the church of the Lord Jesus Christ goes on.
---
God will finish the good work He's begun in you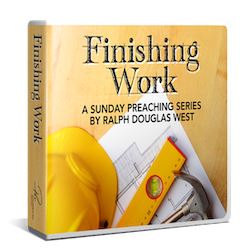 When life knocks you down, you can feel that God is a long way away.
But be encouraged – because He's right there, working in you and for you, even when you don't feel Him.
Finishing Work is a new series from Pas that takes you through the Psalms to show you that God always keeps His promises – especially His promise to complete the good work He's begun in you. And we'd love to send you a copy as our thank you for your gift today.
So request Finishing Work when you give below to help others understand that truth and hold onto God's promises too. Be encouraged!