. . . that you may know what is the hope of His calling . . . (Ephesians 1:18b)
Christian hope is never merely within us; instead, it lies before us. While our inward hope may flag into the depths of despair, the great Object of our hope never varies. He is always before us. Only the eyes of the heart can fasten onto this hope, like an instrument of navigation fastens to the polar star. The "calling" from which this expectation springs is spoken of as "His," not as ours, because it is not our privilege that is here in view, so much as it is His boundless grace.
---
God will finish the good work He's begun in you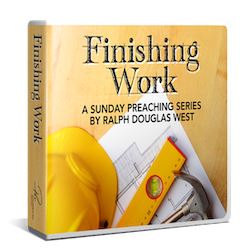 When life knocks you down, you can feel that God is a long way away.
But be encouraged – because He's right there, working in you and for you, even when you don't feel Him.
Finishing Work is a new series from Pas that takes you through the Psalms to show you that God always keeps His promises – especially His promise to complete the good work He's begun in you. And we'd love to send you a copy as our thank you for your gift today.
So request Finishing Work when you give below to help others understand that truth and hold onto God's promises too. Be encouraged!