. . . making mention of you in our prayers, remembering without ceasing your work of faith, labor of love, and patience of hope in our Lord Jesus Christ in the sight of our God and Father. (1 Thessalonians 1:2-3)
Praying for the needs of people in your church is a great way to make mention of their names. Turning your attention away from yourself and directing your focus on someone else will also give you an attitude of gratitude. This gratitude continues when we remember the productivity in the lives of fellow believers. We must remember their diligent work of faith and thank God for the work they've accomplished with the recent converts to the Christian faith.
---
In every day, in every way… be encouraged!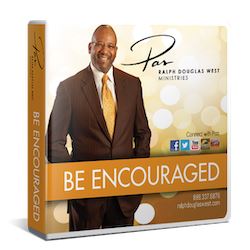 Sometimes life is a struggle. But when you know that the God of the universe has got your back, you can get through anything.
That's why we want to send you Pas' new 4-part series Be Encouraged when you give below to help share that peace and strength with others.
Get your copy today and walk through the story of Jesus' incredible love for you as told in Pas' signature style. We pray it encourages your heart and enriches your spirit!
And thank you for giving generously to encourage others in God's love.