For our exhortation did not come from error or uncleanness, nor was it in deceit. (1 Thessalonians 2:3)
We must make every attempt to avoid putting a price tag on a gospel that is not ours in the first place. We should also disdain deceit. You don't have to travel very far to encounter a ministry filled with it. This word "deceive" carries severe connotations; it literally means "to dilute." A plethora of ministers and ministries are guilty of diluting the truth, which is an offense to God. Even though you can't avoid these hucksters, hustlers, or charlatans in ministry, you don't have to become one of them.
---
In every day, in every way… be encouraged!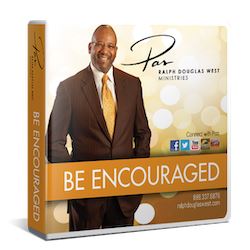 Sometimes life is a struggle. But when you know that the God of the universe has got your back, you can get through anything.
That's why we want to send you Pas' new 4-part series Be Encouraged when you give below to help share that peace and strength with others.
Get your copy today and walk through the story of Jesus' incredible love for you as told in Pas' signature style. We pray it encourages your heart and enriches your spirit!
And thank you for giving generously to encourage others in God's love.