And He gave Him to be head over all things to the church, which is His body. (Ephesians 1:22)
People often make fun of the church, calling Christians hypocrites. The amazing thing about this is that when real trouble comes, no one sneers at the church then. Some of you might have come from a background that gave you a low opinion of the church. I am fortunate to have been reared in a church that was truly a church. You should want that for yourself as well. You should want to be where both the pillar and foundation is the Lord Jesus Christ.
---
God will finish the good work He's begun in you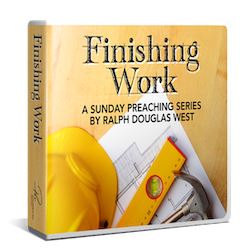 When life knocks you down, you can feel that God is a long way away.
But be encouraged – because He's right there, working in you and for you, even when you don't feel Him.
Finishing Work is a new series from Pas that takes you through the Psalms to show you that God always keeps His promises – especially His promise to complete the good work He's begun in you. And we'd love to send you a copy as our thank you for your gift today.
So request Finishing Work when you give below to help others understand that truth and hold onto God's promises too. Be encouraged!