The Most High does not dwell in temples made with hands. (Acts 7:48)
Thousands of tourists visit Corinth today because of the apostle Paul and the small church he established there. Today Paul and the house church in Corinth are gone, but the letter to the Corinthians is still in our hands. People choose to visit one of the places that helped exponentially increase the spread of Christianity throughout the world. The reality is that the towers, the temples, and the buildings may be gone, but Christ is still there. The sheer evidence of this is the Bible, and that means that the church goes on!
---
God will finish the good work He's begun in you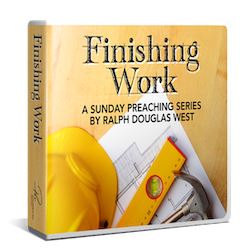 When life knocks you down, you can feel that God is a long way away.
But be encouraged – because He's right there, working in you and for you, even when you don't feel Him.
Finishing Work is a new series from Pas that takes you through the Psalms to show you that God always keeps His promises – especially His promise to complete the good work He's begun in you. And we'd love to send you a copy as our thank you for your gift today.
So request Finishing Work when you give below to help others understand that truth and hold onto God's promises too. Be encouraged!