For the Son of God, Jesus Christ . . . was not Yes and No, but in Him it has always been Yes. (2 Corinthians 1:19 NIV)
The church must preach Jesus Christ as God's fulfillment of the promise—God's Son, man's only hope. The preaching of Paul, Silvanus, and Timothy was not wishy-washy; it was definite. Jesus is the Father's "yes" for every promise, every need, and every hope. By affirming Jesus, they gave glory to the Father's provision. All of the Corinthians' knowledge of His Son, His promise, and provision of grace came through the mission team. If they started doubting the motive and the message of Paul, they would lose confidence in the gospel.
---
God will finish the good work He's begun in you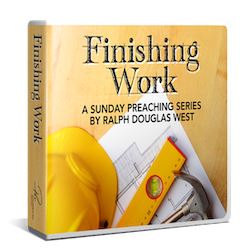 When life knocks you down, you can feel that God is a long way away.
But be encouraged – because He's right there, working in you and for you, even when you don't feel Him.
Finishing Work is a new series from Pas that takes you through the Psalms to show you that God always keeps His promises – especially His promise to complete the good work He's begun in you. And we'd love to send you a copy as our thank you for your gift today.
So request Finishing Work when you give below to help others understand that truth and hold onto God's promises too. Be encouraged!