Now to Him who is able to keep you from stumbling . . . (Jude 24)
There are some people attempting to make us slip, but God can keep our footing secure. God is also able to prevent us from stumbling and falling. This is no reference to a sure-footed horse that keeps itself from falling. Rather, it is the description of a Christian who is kept by God Himself from stumbling into sin and thus from falling away from Him. This verse indicates that God is active in the work of saving His own people. He is also able to keep our footing in a crumbling culture.
---
God will finish the good work He's begun in you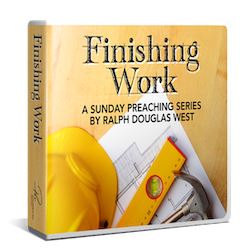 When life knocks you down, you can feel that God is a long way away.
But be encouraged – because He's right there, working in you and for you, even when you don't feel Him.
Finishing Work is a new series from Pas that takes you through the Psalms to show you that God always keeps His promises – especially His promise to complete the good work He's begun in you. And we'd love to send you a copy as our thank you for your gift today.
So request Finishing Work when you give below to help others understand that truth and hold onto God's promises too. Be encouraged!