And to present you faultless before the presence of His glory with exceeding joy, to God our Savior, who alone is wise, be glory and majesty, dominion and power, both now and forever. (Jude 24-25)
Because we are saved by the blood of Christ, we will appear flawless before God. We are unable to enter the presence of God's magnificent glory on our own. In order to enter His company, we must be admitted by God's own mercy and grace. God presents us faultless, even though we are clay that has been marred by sin. Indeed, as Christ's followers, we reflect the glory of God by our words and deeds. But when we enter heaven, we'll be able to share in God's glory.
---
God will finish the good work He's begun in you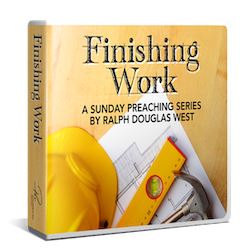 When life knocks you down, you can feel that God is a long way away.
But be encouraged – because He's right there, working in you and for you, even when you don't feel Him.
Finishing Work is a new series from Pas that takes you through the Psalms to show you that God always keeps His promises – especially His promise to complete the good work He's begun in you. And we'd love to send you a copy as our thank you for your gift today.
So request Finishing Work when you give below to help others understand that truth and hold onto God's promises too. Be encouraged!