And all the people answered and said, "His blood be on us and on our children." (Matthew 27:25)
We are not so different from these Jews. If "peace" means added tension, sleepless nights, and involvement in overwhelming problems of our times; if "joy" means pain and bereavement; if "abundant life" means years of loneliness with no companion, a crippling disease that steals our health, or months and months without a job, then we're apt to look elsewhere too. Actually, we want God's promises to look the way we want them to. But if that's the way it is with us, then God's promises will always turn into dust and ashes in our mouths.
---
Be challenged by Romans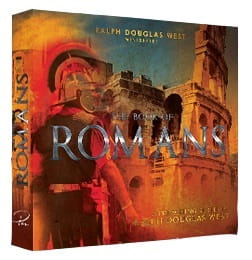 Romans doesn't let us sit still. In Romans, Paul talks about the obligation we are under to spread the truth of the Gospel and to engage with the culture around us. He talks about the journey we must make after we accept the God's gift of salvation. We are called to leave our comfortable and easy corners and spread the message of Christ's sacrifice to everyone around us, because we have been freely justified!