For the law was given through Moses, but grace and truth came through Jesus Christ.  (John 1:17)
Philip Yancey, in his book, A World without Grace, says, "Like fine wine poured into a jug of water, Jesus' wondrous message of grace gets diluted in the vessel of the church. Christians have spent enormous energy debating truth; every church defends its particular version. But what about grace? How rare to find a church competing to 'out-grace' its rivals." Grace is Christianity's best gift to the world, a spiritual nova in our midst exerting a force stronger than vengeance, racism, and hate. Sadly, to a world desperate for this grace, the church sometimes presents un-grace.
---
Be challenged by Romans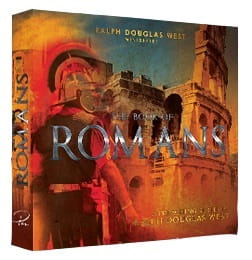 Romans doesn't let us sit still. In Romans, Paul talks about the obligation we are under to spread the truth of the Gospel and to engage with the culture around us. He talks about the journey we must make after we accept the God's gift of salvation. We are called to leave our comfortable and easy corners and spread the message of Christ's sacrifice to everyone around us, because we have been freely justified!