We are His people and the sheep of His pasture. (Psalm 100:3)
There is no sense of gratitude to God unless we know that we're owned by Him. God created us, bought us back, and now possesses us. This also means that I am accountable to Him for my stewardship of His creation. Then I thank God for His protection. There is the word of tenderness: "We are the sheep of His pasture." I don't live in an empty universe belonging to nobody, redeemed by nobody, and protected by nobody. This is a reaffirmation that the Lord indeed is the one shepherding me.
---
Be challenged by Romans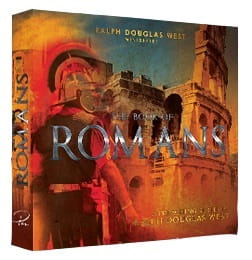 Romans doesn't let us sit still. In Romans, Paul talks about the obligation we are under to spread the truth of the Gospel and to engage with the culture around us. He talks about the journey we must make after we accept the God's gift of salvation. We are called to leave our comfortable and easy corners and spread the message of Christ's sacrifice to everyone around us, because we have been freely justified!