He who dwells in the secret place of the Most High. . .(
Psalm 91
:1)
Look at how God protects you for your own reassurance—by providing a secret shelter. The psalmist so appropriated the presence of God that wherever he was, he felt that he had a hiding place. In the same way, we enter into this shelter with a sense of His presence. Whether we are in an airplane in rough weather, at home where an intruder kicks down the front door, or all alone by the side of the road with car trouble, the Word of God reminds us that we have a hiding place.
---
Be challenged by Romans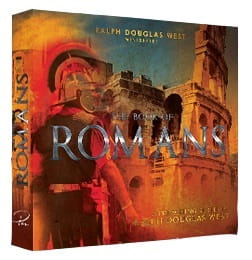 Romans doesn't let us sit still. In Romans, Paul talks about the obligation we are under to spread the truth of the Gospel and to engage with the culture around us. He talks about the journey we must make after we accept the God's gift of salvation. We are called to leave our comfortable and easy corners and spread the message of Christ's sacrifice to everyone around us, because we have been freely justified!