. . . and under His wings you shall take refuge. (
Psalm 91
:4)
When we think of wings, often our minds are directed not to smallness but largeness. The wandering albatross, with a wingspan of 11 feet and 11 inches, cruises over the thermal currents to its destination. The American bald eagle has a wingspan of 12 feet from tip to tip, and there are some even longer than that. The psalmist wants you to understand the encompassing care God gives by listing the ways in which He is able to protect you. He protects you first by taking you under His wings.
---
Be challenged by Romans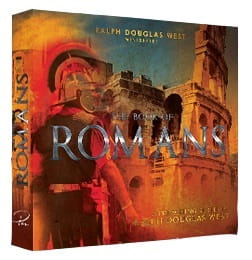 Romans doesn't let us sit still. In Romans, Paul talks about the obligation we are under to spread the truth of the Gospel and to engage with the culture around us. He talks about the journey we must make after we accept the God's gift of salvation. We are called to leave our comfortable and easy corners and spread the message of Christ's sacrifice to everyone around us, because we have been freely justified!