August 26
He Is "Thou art the Christ, the Son of the living God."
Even the world can talk about God and even is more tolerate of Him than we could think them to be at times. Especially when God is talked about as being a God of love and mercy and forgiveness. Those confessions are no problem for most people to endure or embrace as truth. But when we come to the holiness of God and the wrath of God, then things start to take a turn for the worst. People become resistant to standards and consequences for disobedience to those standards. We don't like to be told no do we? Standing for God's Word, which are His holy and perfect standards for living, will bring a backlash in today's world. The Bible is viewed as close minded, harsh and unrealistic. It was written too long ago and it condemns good people and inflicts punishment upon people who break its rules. This is the close minded view of unbelievers and anyone who has not surrendered to the Word of God for living.
Take this same stance of faith one step further and you've got an outright riot on your hand; Jesus is Lord of all! He is the only way to Heaven. He is not a way, a possible passage, He is the only way to Heaven. Take this stand and you are now a close minded fanatic who is biased, racist and condemning. Our confession of who Jesus is will determine God's confession of who we are when we get to Heaven. It won't matter if you believe this or not, it will not change this outcome. Everyone will give an account of Jesus some day before the God of the universe; the One true living God. Philosophies won't change this truth, wars won't eliminate it and history books can't write it out of the future; it's going to take place. It's a coming event that has been set on an intended course of travel and at the perfect time it will happen. Nothing will stop this ending event.
What will your confession be of Jesus? Who do you say He is? Who does the world believe that He is based upon how you represent Him? Following Jesus is costly, confessing Him publicly is deathly. Are you willing to pay the price for a Savior who paid the price for you?
Speak His name without shame.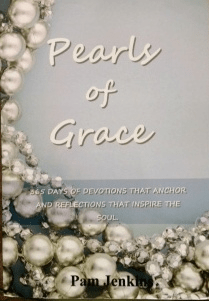 Pearls of Grace Devotional Book
Pearls of Grace is a book of devotions for the entire year, including a read through the Bible in a year calendar, broken down for every day. Beautifully written with encouraging words of hope and empowering words of joy and strength for every woman. Pam draws from the truth and richness of God's Word and gives real life examples in her down to earth style. A must have in your library, click here for more information.          
For more from Pam Jenkins and Jabbok Ministries, please visit www.jabbokministries.com!
Listen to Pam Jenkins's daily broadcast on OnePlace.com.