December 14
Surviving Stumbling Blocks
"…It is inevitable that stumbling blocks should come…and if he sins against you seven times a day, and returns to you seven times…forgive him."
Luke 17:1, 4
The words of our Lord, spoken to His disciples, sparked such a chord in their hearts that they cried out; "increase our faith!" Jesus had given a pretty tall order. Stumbling blocks will come, but you forgive without measure. Surviving the stumbling blocks without losing faith is difficult enough, but Jesus takes it a step further, commanding us to forgive them up to seven times a day, which means without limit. Is it any wonder that their response to Him was the cry for more faith? So what is a stumbling block exactly? The word that is used for stumbling block in Luke 17 means: "an occasion to fall, a thing by which a person is drawn into sin, it means to be disappointed or offend because someone is contrary to our expectations." Very simply put, beloved, a stumbling block is that which offends us, or challenges our faith to such a degree that, it creates an occasion for us to fall, or to fail God in it.
Stumbling blocks can be powerful weapons of destruction in the lives of God's children. But, they can also be powerful opportunities to bring glory to God and mighty instruments of encouragement to others. When the disciples cried, "increase our faith", they were saying, Lord make us strong because if you don't, we'll blow it! So how did Jesus respond to their request? He tells them a story! Listen to a small portion; "which of you, having a slave plowing or tending sheep, will say to him when he has come in from the field, 'come immediately and sit down to eat?' But will he not say to him, 'prepare something for me to eat, and properly clothe yourself and serve me until I have eaten and drunk, and afterward you will eat and drink." (Luke 17:7-8) Herein lies the source for faith, the storehouse where the soul will find strength to endure and overcome the stumbling blocks that will come. We must learn the spiritual practice of going from field to table.
Like the slave, we too should come in from the fields daily to go into the presence of our master. The fields are where the stumbling blocks are found; the place of daily service the Lord has us in. How often do we toil in the fields of the Lord while neglecting the table of His presence? How often do we value the fields over the worth of the One we serve? We are not to be about the work of the Lord, precious one, but rather we are to be about the Lord of the work. The heart of the servant of the Lord should come in daily before Him to tend to His needs. A wise servant is the one who understands that he is only fed; only satisfied, when he has fed and satisfied his Master. This is the spiritual food of the child of God. The food that will sustain you when you go back into the fields the next day. From table to field…from field to table, this was the Lord's answer to the cry of His disciples, "increase our faith." Are you neglecting the Lord's table while serving in His field? Tend to your Master first and you will carry from His table all you need to work His fields.
Keep me at your table that I may work your fields with honor.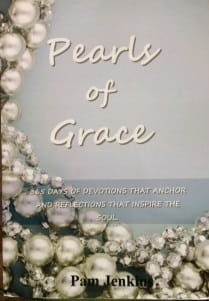 Pearls of Grace Devotional Book
Pearls of Grace is a book of devotions for the entire year, including a read through the Bible in a year calendar, broken down for every day. Beautifully written with encouraging words of hope and empowering words of joy and strength for every woman. Pam draws from the truth and richness of God's Word and gives real life examples in her down to earth style. A must have in your library, click here for more information.
For more from Pam Jenkins and Jabbok Ministries, please visit www.jabbokministries.com!
Listen to Pam Jenkins's daily broadcast on OnePlace.com.