February 13
Is God Enough For You?
…"And besides Thee, I desire nothing on earth"
I've listened to the fearful voices of many young women as they approached the day of their wedding. Many of them having doubts as to their future and if they were in the will of God for their lives, full of uncertainty and anxious thoughts; cold feet as we tend to call it. Some doubts have been promptings by God to reveal they were not in His will while others have discovered that their fear was not knowing if their spouse would be enough for them. I've watched many brides step down the threshold doubting if love for their husband would be enough, would they be happy for the rest of their life or would they end up unhappy in a few years down the road. I believe we all want assurance of happiness in our future. This is the way God designed us.
The disappointment is revealed when we look to the wrong source for our happiness. Just like love, our flesh will be tempted to refrain from giving ourselves completely unto God and His will because we have that nagging little voice that doubts if God is really enough for us. Will we be truly happy if we give ourselves to God fully or will we be disappointed? This doubt wells up within the heart that has not tasted and found the Lord to be good! When we strip down to the raw hard truth of this we might be amazed at what we find out about ourselves. Many of us withhold ourselves or parts of our lives from God because we are not fully assured that He is really what we want. God too, beloved, has been rejected many times by the countless hearts that follow this pattern of thinking.
Can you imagine the heart of God at the thought that his child withholds himself from Him because he doubts that God could bring him total joy and fulfillment? Our Creator, our Father, our Salvation, the glory and lifter of our head, our rock and refuge, the lover of our soul, the well of life, the great I Am who is in need of nothing, the greatest artist who drew out the world in all its glory and splendor with the touch of His mighty hand, not enough? Do you know within your heart of hearts that He and He alone can totally satisfy you and fill your life with everlasting peace and joy? Have you tasted the Lord and found Him to be good? Is He your desire precious one; your desire above every other desire?
I've never heard a testimony or read of one past or present that has desired the Lord and came up wanting for anything but for more of Him. You see, when we taste of the Lord, we will never be able to get enough! The seeker of God will not be disappointed and will find He is all the soul has ever longed for.
I want but one desire to have more of Thee.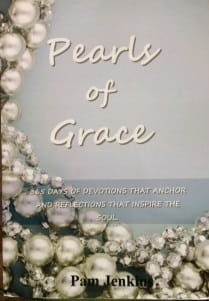 Pearls of Grace Devotional Book
Pearls of Grace is a book of devotions for the entire year, including a read through the Bible in a year calendar, broken down for every day. Beautifully written with encouraging words of hope and empowering words of joy and strength for every woman. Pam draws from the truth and richness of God's Word and gives real life examples in her down to earth style. A must have in your library, click here for more information.
For more from Pam Jenkins and Jabbok Ministries, please visit www.jabbokministries.com!
Listen to Pam Jenkins's daily broadcast on OnePlace.com.